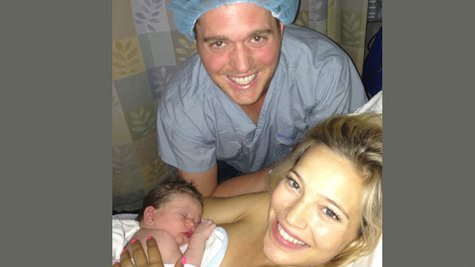 When Michael Buble takes the stage every night, he's got a set list. But it turns out he's also got one in his personal life: a personal list of songs he sings to his new baby son, Noah , who is just over a month old.
"There really is a set list," Michael tells ABC News Radio, noting that his "number one go-to" song is the traditional children's song " Down By the Bay. " When he and his wife Luisana want Noah to go to sleep, Michael croons a lullaby that goes, "Go to sleep little boy/'cause your mommy and daddy love you." "That actually works," he claims. "It knocks him out."
Michael jokes that when he wants Noah to perk up, he sings the 1978 disco classic "I Love the Nightlife (Disco 'Round)" by Alicia Bridges. "You should see him go crazy!" he laughs.
Before Noah was born on August 27, Michael joked in numerous interviews that he and his wife were arguing over what to name their son. So how did they decide on Noah? Turns out they just stumbled across it one day.
"We'd gone to the baby center and we were looking through all these names," Michael tells ABC News Radio. "You know, you look through thousands of names. And I kind of just went through 'Noah' and I said, 'Noah,' and stopped, and she said, 'You know, I really like that name.'"
Though Noah is still a newborn, Michael says that friends and fans are already expecting him to be as much of a hockey fan as his dad is. "Little ice skates, little jerseys, I just got hockey cards," the singer says, listing all the gifts he's gotten for the baby lately. "Yeah...he's probably gonna be a gay ballet dancer!"

Michael will resume his U.S. tour in support of his album To Be Loved on October 18 in Dallas, Texas. That will wrap up at the end of November, and then he's off until January, so he can spend his first Christmas as a daddy with Noah.
Copyright 2013 ABC News Radio