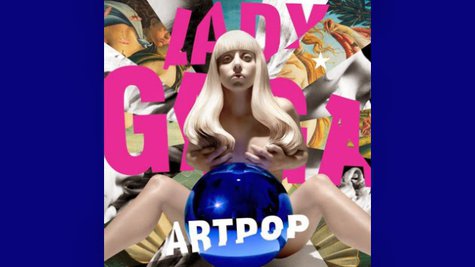 It's not every pop star who commissions a world-famous modern artist to sculpt them for their album cover. That's why Lady Gaga is getting so much attention for hiring artist Jeff Koons to create the image you see on the cover of her upcoming disc ARTPOP . But so far, reviews of the album artwork by bona fide art critics have been mixed.
Just to put things in perspective, in his often controversial career, Koons has produced everything from sculptures of Michael Jackson and his chimp Bubbles ; to pornographic portraits and sculptures of him and his porn star ex-wife; to giant stainless-steel sculptures of balloon animals and inflatable toys ; to a 43-foot tall sculpture of a puppy done entirely in flowers. Last year, one of his works sold for $33,000,000.
Will Gompertz , author and Arts Editor for the BBC, tells NME.com that he feels the ARTPOP cover is "a classic," adding, "When you're listing the 100 best covers of the 21st century, this will be right up there." He also says, "Jeff Koons is one of the best artists around: a funny guy who is seriously good."
"His shtick is to play with our perceptions of fine art and pop culture: to make the low high and the high low....Koons' art asks questions about values, taste, capitalism, reality and beauty," says Gompertz. "They are designed to appeal to our eyes and mess with our soul. His new album cover for Lady Gaga fits that bill."
However, Jerry Saltz , acclaimed art critic for New York magazine and judge on the short-lived Bravo reality series Work of Art: The Next Great Artist , hates the cover.
"Another day, another boner from Jeff Koons," writes Saltz, adding that the Gaga sculpture on the cover "looks like a...cheesecake blow-up doll from an old 42nd Street porno shop." He adds, "Graphically it looks like the rinky-dink work of some bottoming-out artist."
To put it in perspective, Saltz doesn't actually hate Koons' work generally -- in May, he praised a recent exhibit by the artist, which heavily featured those mirrored blue balls that you see on the cover of ARTPOP.
Copyright 2013 ABC News Radio