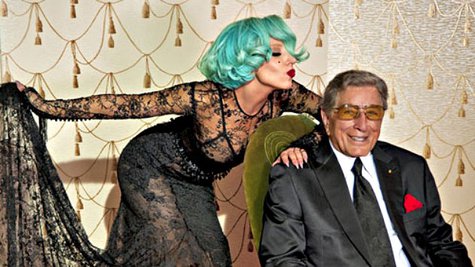 Legendary crooner Tony Bennett has been talking for months about the album of jazz duets that he's recorded with Lady Gaga , but now, it seems we finally have a release date for the project.
Doing a Q&A with fans on Reddit.com on Tuesday, Tony was barraged with questions from fans wanting to know about working with Gaga, and about the status of the album. In response to all the questions, Tony wrote , "Well January 1st of next year I am putting out an album we have done already with Lady Gaga, and I am very excited about the album, I think it will be very well-accepted when it comes out."
Gaga and Tony first collaborated on Tony's #1 album, Duets II, singing together on the standard "The Lady Is a Tramp." He also appeared in her ABC Thanksgiving special that year to perform it with her. In January of this year, Tony and Gaga performed the song again at the White House for President Obama , as well as campaign staffers and aides.
In June of this year, shortly before the disc was recorded, Tony spoke about the project with E! Online. "She's actually a very wonderful singer," he said of Gaga. "And we're going to go with a lot of big, swinging jazz songs...to show everybody she really knows how to sing beautifully."
Copyright 2013 ABC News Radio