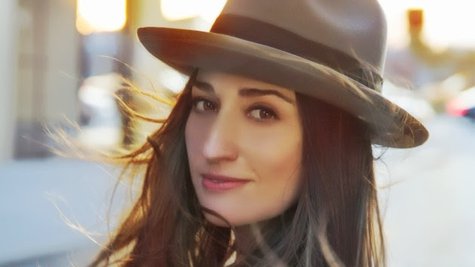 Sara Bareilles kicked off her fall headlining tour this past weekend, but Wednesday night likely be the most memorable evening of the tour for her. That's because it's the night she gets to play a headlining concert at her dream venue...to a sold-out audience.
Wednesday night, Sara performs at New York City's Radio City Music Hall, and she tells ABC News Radio, "I am overwhelmed...I get a little choked up because it's one of my bucket list things. It's something I've dreamed about forever and ever: 'I wanna headline Radio City Music Hall.' And I could see it maybe down the line, a million years. But the fact that it's here and the fact that it's sold out, I couldn't believe it!"
"I'm thrilled. I'm so excited. I can't wait," she told ABC News Radio a couple of weeks before the show. "I have a dress. I bought a dress for this tour and I'm going to save it for that!'"
Sara's tour comes in support of her current album The Blessed Unrest , which has produced the hit "Brave." In creating the set list for this tour, she says she's tried to strike a balance between what her fans want, and what she wants.
"I'm trying to find the balance, because of course I want to give the people music they're already familiar with," she explains. "But selfishly, I'm really excited to dive into some of the new music. So right now it's...like half and half. So I hope that makes people happy."
She adds, "What's fun is watching people become familiar with the new record. Because people are like, 'Huh? What's this song?' And I'm like, 'I hope you catch up and learn it!'"
Sara's tour will wrap up October 19 in Athens, Ohio. On the 23rd, she'll join her pal Katy Perry at a special charity concert at the Hollywood Bowl in Los Angeles, where hopefully, they'll perform a mash-up duet of "Brave" and "Roar." And if you don't get a chance to catch Sara on tour this time, a live CD/DVD, Brave Enough: Live at the Variety , is due October 22.
Copyright 2013 ABC News Radio