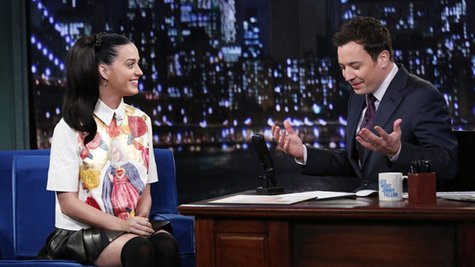 Katy Perry made an appearance on NBC's Late Night with Jimmy Fallon Thursday night to plug her new album, Prism , which she describes as "raw" but still "lots of fun."
Fallon's house band, The Roots , welcomed Perry by playing boyfriend John Mayer 's "Your Body Is a Wonderland."
Wearing pigtails, a white blouse with the Virgin Mary on it, a black leather miniskirt and knee-high black socks, Perry told Fallon the new album is quite different from Teenage Dream , which spawned five massive hits. "..[I]t's more raw, and vulnerable and stripped out," Perry said, calling the new album "an evolution." "It's three years later, and a bit more grown up, but still having lots of fun," she added.
As if to demonstrate that she still likes to have fun, Perry stayed for a rousing game of Taboo with Fallon and two people from the studio audience.
Perry is the musical guest this weekend on Saturday Night Live. Bruce Willis will host.
Prism is due out October 22.
Copyright 2013 ABC News Radio