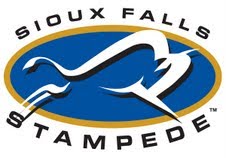 Sioux Falls, SD (KWSN) —The Sioux Falls Stampede announced Tuesday that they have trade goaltender Shane Starrett (Stare-it) to the Lincoln Stars for a 5th round pick in the 2014 Phase II draft. The Stampede now have two active goaltenders on their roster, Art Brey and David Jacobson.
The Bellingham, MA native served as a backup for the majority of the first nine games of the regular season. In pre-season play, Starrett appeared in each of the five games, posting a 2-1-0 record with a 4.90 GAA and a .829 save percentage.
The Boston University commit was selected by the Stampede in fourth round of the 2013 Phase II USHL Draft. Prior to joining the Stampede, Starrett went 25-15-5 last year at Selects Academy, posting a 1.96 GAA and a .914 save percentage.
The Stampede return to action this Friday and Saturday with back-to-back home games at the Sioux Falls Arena. Friday night is "Pink in the Rink Night," presented by Midwest Family Care. Game time is 7:05 PM. The ice will be pink and Stampede player will be wearing special white and pink jerseys that will be raffled off during the game with proceeds benefit the American Cancer Society. Plus, the first 1,000 fans through the doors will receive a FREE pink Stampede coffee tumbler, compliments of Midwest Family Care.
Saturday night is a Halloween Bash as the Stampede host Fargo at 7:05 PM. Kids and adults are encouraged to come dressed in their favorite Halloween costume and enter the costume contest in the front lobby prior to the game for a chance to win some fabulous Stampede prizes! Plus, kids 8 and under can sign up to be part of the "Candy Dash" on-ice during the first intermission. Tickets for both games are available through the Sioux Falls Arena box office or any Ticketmaster location.
Fans who show their ticket stub from Friday or Saturday night's game can get in to the Haunted House at the Birdcage for just $5! Click here for details!
Courtesy: Sioux Falls Stampede