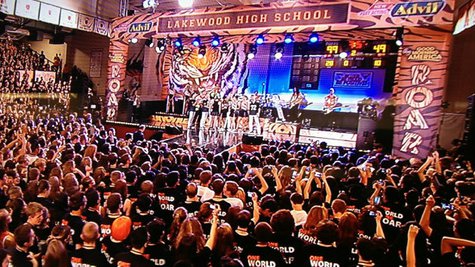 Katy Perry celebrated her 29th birthday on Friday by performing for the students of Lakewood High School in Lakewood, Colorado. They won the concert as part of Good Morning America's "Roar with Katy Perry Contest" -- the video they made of themselves lip-synching to Katy's hit "Roar" was chosen as the winner out of over 1,000 entries.
The video was directed and produced by student body president Courtney Coddington . It showed over 2,000 students, staff and teachers at the Lakewood, Colorado high school lip-synching to the tune in groups that ranged from jocks to cheerleaders to members of the band.
Katy's special concert was broadcast live on Friday's Good Morning America , and Katy said it felt great to finally perform at the school . " I just loved all the participation and the unification," she explained of why she chose Lakewood High. "...All of you guys coming together and roaring in one shot. That was so cool."
Katy also said she loved judging all the videos and choosing her favorite, and was thrilled that so many schools participated. She gushed, "We live in a time where I think we're really distracted...But everyone came together and made fantastic videos. So, school spirit still lives!"
During the concert, which had thousands packed inside Lakewood High's gymnasium, Katy performed "Roar," of course, as well as a song from her new album PRISM , "Walking on Air," as well as her inspirational hit "Firework."
Students at Lakewood High gifted Katy with her very own Varsity letter jacket, along with a birthday cake. Speaking about her special day, Katy admitted that she doesn't feel as though she's approaching the big 3-0. "I still feel like I'm 13 sometimes, obviously you can tell by my music and my spirit," she said.
Copyright 2013 ABC News Radio
Unfortunately your browser does not support IFrames.