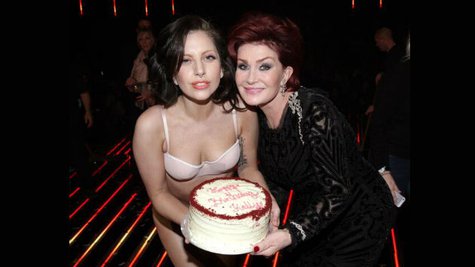 Earlier this year, Kelly Osbourne and her mom Sharon Osbourne started waging an all-out media war against Lady Gaga, accusing the singer of being unable to stop her fans from making death threats towards Kelly online. But this weekend, when Gaga attempted to smooth things over with Kelly, the younger reality star pushed things to an even higher level, telling the singer, "Eat my s**t."
It all started when Gaga appeared on the British version of The X Factor on Sunday. While there, she presented Sharon, one of the judges, with a birthday cake for Kelly -- it was her 29th birthday. But Kelly's reaction was less-than-enthusiastic: she wrote on Twitter , "Not to be ungrateful but why would you send me a birthday cake via my MOTHER in a country half the would away?" She added the hashtags "#JustSendItToME" and "#LoveNotWar."
But she didn't stop there. Kelly then posted an Instagram photo of the offending cake, and captioned it with the hashtags "#EatMyS**t" and "#Hypocrisy." She followed that with a series of posts and hashtags attacking Gaga. "#StefaniStopIt!" she tweeted, referring to Gaga's birth name. "You are so far behind you think you are first! I live for a #Cause not for the #Applause!!!!!!" That's a reference to Gaga's latest hit, of course.
She finished by writing, "I like dessert, but i prefer the truth… it's sweeter."
Gaga's response to all this? "I didn't know it was your B-day until this afternoon. Meant as a peace offering. Happy Birthday," she tweeted, including a photo of herself and Sharon holding the cake."
Then, to try stem the tide of Twitter hate that Kelly's comments unleashed, she wrote, "Monsters, please just focus on the positive of tonight's performance and do not send any hateful messages. I don't support it. #SpreadLove."
Copyright 2013 ABC News Radio