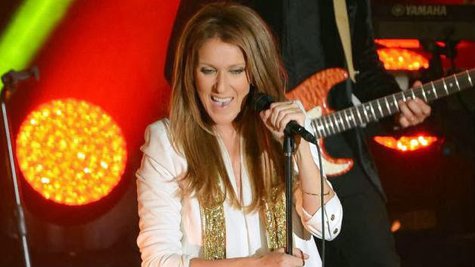 Earlier this week, Celine Dion performed an intimate concert in New York City for a select crowd of lucky fans. But if you couldn't get tickets, don't worry: you'll be able to watch it on QVC on Friday.
Entertainment Weekly reports that the 12-song set will air on QVC November 1 at 7 p.m., and viewers will be able to buy a specially-packaged version of her new album, Loved Me Back to Life, that will feature five additional bonus tracks. The concert features Celine performing some of her greatest hits, as well as a selection of tracks from the new disc, which hits stores Tuesday.
Loved Me Back to Life is Celine's first English-language album in six years, but as she pointed out during her appearance on The View on Wednesday, it's not like she's been sitting on the couch doing nothing during that time.
"I've been performing at the Caesars Palace Coliseum for a while," Celine told the show's co-hosts. "I'm entering my third year in Las Vegas with a new show...I recorded a French album, I did a world tour, and I had two babies!"
When she finally did start to put Loved Me Back to Life together, Celine said that she wanted to shake things up a bit. Not only did she collaborate with different people, but she recorded different kinds of songs, and sang them in a different way.
"For 30-something years of [my] career, I've mainly used a recipe that worked for me, which is a lot of training, pretty much on the classical side of it, and if I hear a little crack [in my voice, I say], 'Excuse me, I wanna do it again,'" she explained. But for Loved Me Back to Life , Celine says, she traded perfection for a more relaxed approach, allowing her voice to crack or sound rough if she felt it suited the song..
"The producers and the songwriters sent me those songs that really led to me [being] able to loosen up a little bit," she explained.
While her fans may like Celine's new music, her children are another story. On The View, Celine talked about how her son Rene-Charles , who's turning 13 in January, would cry every time she sang to him, and how her twins, Nelson and Eddy, who are three, would do the same. "Something in the genes is not going right," she joked. "I don't know what, but there's something going on." When asked how Rene-Charles, a fan of Eminem , reacts to her music now, Celine laughed, "He still cries!"
Copyright 2013 ABC News Radio