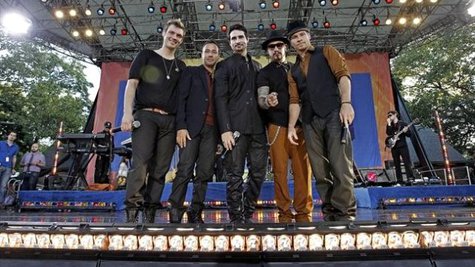 The Backstreet Boys, Paula Abdul and Enrique Iglesias are among the artists who'll appear on the Muscular Dystrophy Association's annual Labor Day telethon Sunday night.
The 48th annual telethon, called The MDA Show of Strength , also will feature Glee 's Matthew Morrison , American Idol season 11 runner-up Jessica Sanchez and Idol host Ryan Seacrest . Kenny Loggins , country stars Darius Rucker and Lee Ann Womack , and Chris Mann from The Voice round out the lineup.
Presenters on the telecast include Brady Bunch star Florence Henderson , No Doubt drummer Adrian Young and his son Mason , and Olympic gold medal gymnasts Nadia Comaneci and Bart Conner .
In addition to all the stars, six families who've been helped by the MDA will tell their stories of hope and survival during the broadcast, which airs Sunday night at 9 p.m. ET on ABC.
Copyright 2013 ABC News Radio