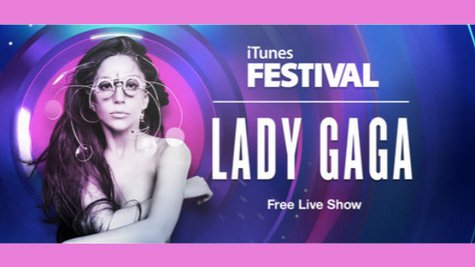 As promised, Lady Gaga unveiled six brand-new songs from her upcoming album ARTPOP at the iTunes Festival in London this weekend, plus her current single "Applause," also from the disc.
Some of the tracks had already been teased by Gaga in rehearsal footage, including "Sex Dreams," " MANiCURE ," and "Swine." Another, " Aura ," leaked online last month. " Jewels and Drugs " featured guest appearances by rappers Too $hort and Twista . T.I. is also on the track, but he wasn't present onstage for the performance. "I Wanna Be with You" is a slow piano ballad that showed off Gaga's strong vocal ability.
Speaking about her new material, Gaga told the audience, "I wanted to set myself free of this box they put you in in pop music. It's like I have to stay inside the box and be a good girl. But I don't want to be inside the box. I wanna live outside the box, with all of you. So I made some music that's a little bit different from what I've made before, but I made it because I'm a fan...of all different kinds of music. Aren't you?"
ARTPOP is due in November. Here's the set list from Gaga's iTunes performance:
"Aura"
"MANiCURE"
"ARTPOP"
"Jewels & Drugs"
"Sex Dreams"
"Swine"
"I Wanna Be with You"
"Applause"
Copyright 2013 ABC News Radio