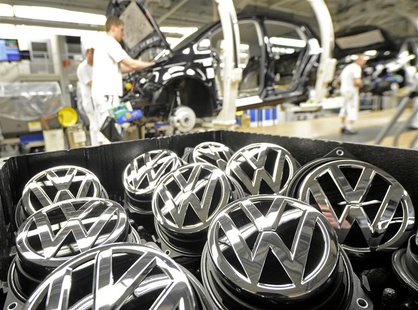 BERLIN (Reuters) - Car sales in Germany, Europe's largest auto market, declined in August after growing slightly a month earlier, casting doubt on the chances of a recovery in vehicle demand in the region.
New auto registrations in Germany, home to Volkswagen , Daimler and BMW , fell 5 percent year-on-year last month to 214,100 passenger cars, industry association VDA said on Tuesday.
Year-to-date German deliveries dropped 7 percent to 1.97 million, Berlin-based VDA said. An extra working day had caused sales to edge up 2 percent in July but headline numbers were negative in six of the first eight months.
Similarly, France, Italy and Spain reported sharp declines in auto registrations on Monday, dimming prospects for a stabilization in demand in Europe where overall sales have plunged to a two-decade low.
VDA president Matthias Wissmann emphasized that domestic orders kept growing by 2 percent in August following a 3-percent gain in July while passenger-car production was up 9 percent to 397,150 autos, helped by demand for premium brands.
Adjusted for one working day fewer than in August 2012, new car sales in Germany were almost flat last month, Frankfurt-based Commerzbank analyst Sascha Gommel said.
"There may be no turnaround yet but the German market keeps stabilizing," Gommel said, citing improving business confidence in Europe's No. 1 economy that could help underpin vehicle demand in the remainder of 2013.
Registrations can be an imperfect indicator for the health of Germany's car market, since they can lag demand by around two to three months. Also, automakers can boost their monthly results by registering new cars to themselves.
(Reporting by Andreas Cremer; Editing by Marilyn Gerlach and Jane Merriman)