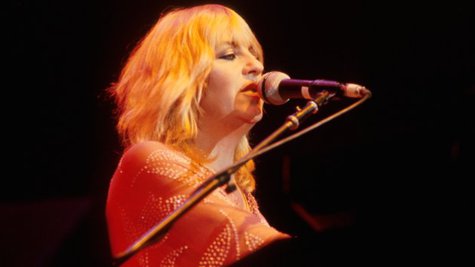 Since retiring from Fleetwood Mac back in 1998, Christine McVie has resisted numerous requests from her band mates to come back into the fold. Recently, however, it seems that the 70-year-old singer/pianist is at least open to hitting the stage with the group again when they perform in London later this month.
BBC radio DJ Johnny Walker reports that he bumped into McVie last week in the U.K. and asked if she'd consider reuniting with Fleetwood Mac at their O2 Arena on September 24, 25 and 27. Walker says McVie replied, "If they ask me, I'd play."
The news follows an April interview Christine did with Metro.co.uk in which she expressed similar sentiments. "If they wanted me to, I might pop back on stage when they're in London," McVie declared, "just to do a little duet or something like that."
Christine apparently will be spending time with some of her old band mates on September 16, when she's scheduled to attend the U.K. premiere of the Stevie Nicks documentary In Your Dreams . Nicks and Fleetwood Mac drummer Mick Fleetwood also are slated to be on hand for the event, as will Eurythmics guitarist Dave Stewart , who co-directed the film with Stevie and collaborated with her on her solo album of the same name. The premiere will take place in at the Curzon Mayfair cinema in London and Nicks will take part in a Q&A session after the screening.
Copyright 2013 ABC News Radio