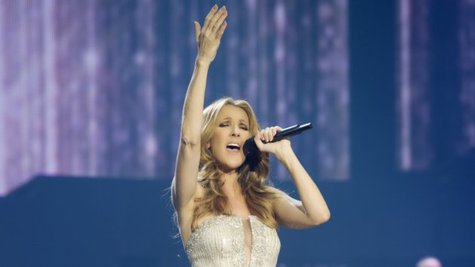 Sure, Celine Dion 's a worldwide superstar who's sold millions of albums, but that doesn't mean she's cool in the eyes of her 12-year-old son. In fact, it's pretty much the opposite.
Speaking to Access Hollywood 's Billy Bush , Celine revealed that when it comes to her son Rene Charles , "I'm not his favorite singer, for sure." She added, "I'm his favorite mom, though. That's the main thing." When Bush suggested that perhaps Celine could impress Rene Charles -- who she calls RC -- by collaborating with Eminem , she replied, "I'd love to!"
There is something musically that Celine's done recently that impressed RC, though. She tells Access Hollywood that he couldn't believe it when she told him that her new single "Loved Me Back to Life," was written for her by Sia Furler . In addition to singing on two top hits -- "Wild One" and "Titantium" -- Sia has also written songs for Christina Aguilera , Shakira and Rihanna , including Rihanna's smash hit "Diamonds."
"When I told [him] that I was getting ready to do another album and that there's a new song called 'Loved Me Back to Life' and that it was Sia who actually wrote it for me, he said, 'No way,'" laughs Celine. "He couldn't believe it because I'm not cool, and I'm not Rihanna!"
Celine claims her son said, "What?! Sia wrote you a song? That must be a mistake. Like, this is not normal. She must not be feeling her best."
Copyright 2013 ABC News Radio