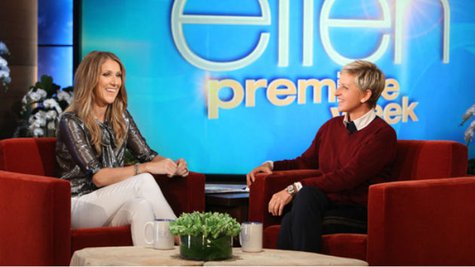 Think you really, really love shoes? Think again. Celine Dion admits to Ellen DeGeneres on her talk show today that she loves shoes so much, she's got 3,000 pairs of them -- and that's just in one of her houses.
While talking about her massive Florida mansion that she's selling for more than $70 million bucks, Celine describes to Ellen how the immense closet in the home has a dry cleaners' rack on it so you can fit as many clothes and shoes in it as possible. "How many shoes to do you have?" Ellen asks innocently. "In there, maybe 3,000," Celine responds, as the audience reacts in surprise.
However, Celine is quick to point out that if you buy the home, "It doesn't come with my shoes!" "For $71 million, throw your shoes in!" Ellen urges. "It opens up and it's electronic and it all rolls and you can see all of them," Celine gushes, and then breaks into a chorus of the Lisa Stansfield hit "All Around the World," with shoe-appropriate lyrics. "All around the world and I, I/I don't want to wear those/I don't which, I don't know why," sings Celine, to much laughter.
Celine also performs her new single, "Loved Me Back to Life," on today's show.
Copyright 2013 ABC News Radio
video platform video management video solutions video player