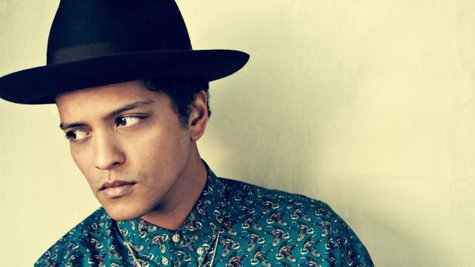 Br uno Mars is generally considered to be a pretty inoffensive artist, thanks to his hits like "Just the Way You Are" and "When I Was Your Man." But one woman in Australia says that Bruno's latest single should be banned because it advocates violence towards women.
Dannielle Miller is the co-founder of Enlighten Education, which runs workshops for high school girls. According to the Australian paper The Daily Telegraph , Miller took offense to the fact that Bruno's new single, "Gorilla," was played on the radio while she was driving her children to school.
The sexually-charged song, which is about making love like, well, gorillas, features the lyrics, "Yeah, I got a fistful of your hair/But you don't look like you're scared/You just smile and tell me, 'Daddy, it's yours'/'Cause you know how I like it/You's a dirty little lover."
Miller tells the paper, "As a mother of young kids I get offended when I hear lyrics where men refer to women as sluts. This is not a song that respects women. Anyone who asks you to call them 'daddy' in the bedroom is just 50 shades of wrong."
Miller feels that songs such as "Gorilla" shouldn't be played on the mainstream radio station on which she heard it. She says she'd specifically like to ask Bruno this question: "How would you feel about someone saying that to your daughter?"
Copyright 2013 ABC News Radio