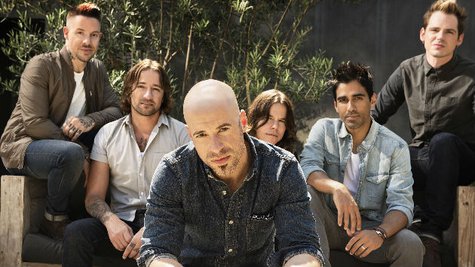 After promising that a new Daughtry album would arrive sooner rather than later, Chris Daughtry's made good on his word. The group's new album, Baptism , will arrive November 19, preceded by the brand-new single, "Waiting for Superman." The song, recorded by the band while on tour this past summer, is now at all digital providers.
In a statement, Chris says, "We're excited to unveil our new musical direction. We wanted to remain true to our roots but at the same time felt the need to push ourselves creatively more than ever. 'Waiting For Superman' is a perfect example of the overall theme to the new album."
"Waiting for Superman" tells the story of a woman who's waiting in vain to be "rescued" from her situation. "She says, 'Yeah, he's still coming/Just a little bit late/He got stuck at the laundromat/Washing his cape,'" Chris sings. The chorus goes, "She's talking to angels/She's counting the stars/Making a wish on a passing car/She's dancing with strangers/She's falling apart/Waiting for Superman to pick her up in his arms."
Chris is a massive fan of comic books and superheroes, so it's no surprise that Superman gets name-checked in the new single -- though in reality, he's said Batman is his favorite.
Copyright 2013 ABC News Radio