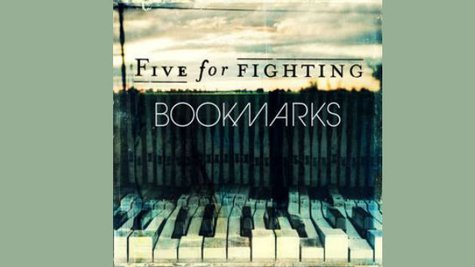 Some would say that a career in the music business is a marathon, and not a sprint. When it comes to Five for Fighting 's new album Bookmarks, in stores today, the process literally involved an actual marathon.
John Ondrasik , the man who records under the Five for Fighting name, says one of the reasons that so much time elapsed between the last album, Slice , and Bookmarks , was because he had some "bucket list" stuff to attend to, including running a marathon. And he says that in the process of training for the marathon, he fell in love with music all over again.
"I wanted to make sure that I really wanted to do this again," he tells ABC News Radio. "You know, I'm getting to the age where it's harder and harder to win at radio, it's harder and harder to sell a ton of records. The game's changed, and I wasn't having fun. My soul had kinda been sucked dry through the reality of the music business."
But John says as soon as he started running, it all came back to him. "I kinda found my love for music again, training, listening to four to five hours of the Bee Gees and the Beatles and Elton [ John ] and Billy [ Joel ] and The Who and AC/DC and The Cars and Journey ," he tells ABC News Radio. "I really started to enjoy music again, and I started writing."
And when it came time to actually record the new album, John says, he felt it was important to change up the Five for Fighting sound a little -- you can hear that change on the new single, "What If." "I think we needed to come out with something a little more modern, a little different," he explains. Re-teaming with his old producer Gregg Wattenberg, who's since worked with Train , Daughtry , the Goo Goo Dolls and Phillip Phillips , John says he was able to bring a fresh angle to the record, but still retain what he calls his "lyrical sensibility."
As for the album's title, John says he stumbled across it when his first choice didn't work out.
"I'd had a working title as Kings, you know, cause the Kings won the Stanley Cup," says the hockey-crazed John. "And then they lost to Chicago. And so I'm like, 'Well maybe that doesn't work, and Kings probably doesn't reflect this, and no one will get it.'" He was at a loss for what to call it, until the answer started him in the face.
"I'm sitting at my computer one day going 'What should it be, what should it be?'" John laughs. "I clicked on [my] bookmarks. Done!"
Look for John on The Tonight Show with Jay Leno Tuesday evening, NBC's Today show on Thursday morning and Rachael Ray on September 30.
Copyright 2013 ABC News Radio