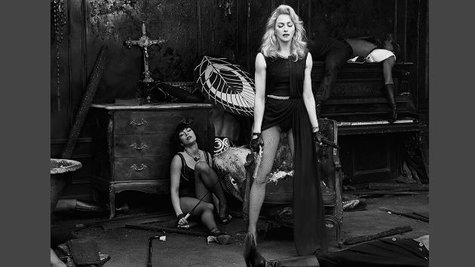 She's been posting about it on social media for months now, but next week, fans will finally be able to see Madonna 's so-called "secret project." Titled secretprojectrevolution , it's a 17-minute film she co-directed with photographer Steven Kline .
The movie will be distributed in a unique way: as a BitTorrent Bundle. This means you'll be able to download it for free, starting September 24 at 2 p.m. ET. Bonus content is also available. Just visit Bundles.Bittorrent.com/Madonna-revolution/ to get it.
The project isn't just a one-off, though: it'll serve to launch Art for Freedom , an online global initiative that Madonna created to "further freedom of expression." In a statement, the Queen of Pop says, "My goal is to show by the example of secretprojectrevolution my creative commitment to inspire change in the world through artistic expression."
She adds, "I hope my film and other submissions to Art for Freedom will be a call-to-action and give people a place to voice their own creative expression to help fight oppression, intolerance and complacency."
Madonna is inviting people worldwide to express what freedom means to them via video, music, poetry and photography. You can upload your original work, or post it online with the hashtag #artforfreedom.
This issue is obviously very important to Madonna. During a Q&A she did on Reddit on Monday night, Madonna was asked "What current issues drive you to voice your opinion creatively?" Her responses were "Censoring of artists around the world" and "Censorship." She cited the example of Pussy Riot , the Russian female punk group who saw some of their members jailed after filming themselves lip-synching a protest song about Russian president Vladimir Putin in a Moscow cathedral.
Copyright 2013 ABC News Radio