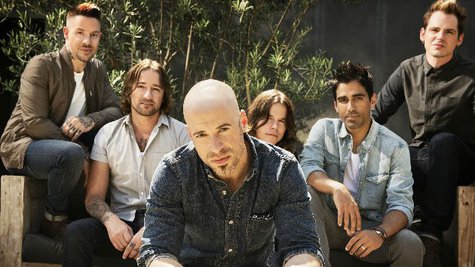 "Waiting for Superman," the first single from Daughtry's new album Baptized , shows the band's "new musical direction," according to Chris Daughtry . And according to him, fans might be in for a shock when they hear the entire record, which is coming out in November.
"It's a step forward for us for sure, this record," he told ABC News Radio a few months ago. "I know I've said this before -- 'Oh, it doesn't sound anything like our previous records' -- but this literally sounds nothing like anything we've done before."
Chris didn't go into specifics about exactly what it is that makes Baptized so different, but "Waiting for Superman" does have some touches of electronic music in it. He says the change is more about how the record sounds, rather than the basic song structure, lyrics or vocals.
"It's been a fun process to really just experiment with different sounds and different production styles," he explains. "The melodies are still, y'know, what we do and, and obviously it's still my voice, but I think sonically, it's gonna surprise people."
But that being said, Chris says it's a little scary to release an album that represents what they think is such a break with their past sound. "As much as I love it you're always curious of how people are going to react, and hoping that it's positive," Chris tells ABC News Radio. "But...we can't keep doing the same thing. We can't keep repeating ourselves and we have to evolve as a band, we have to evolve as songwriters."
He adds, "Radio is changing, and if we want to play ball we sometimes we've gotta change our sound and reinvent ourselves."
You'll be able to hear Daughtry's new direction November 19, when Baptized -- the title represents what Chris calls the "rebirth" of the band -- arrives in stores.
Copyright 2013 ABC News Radio