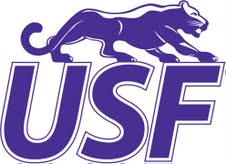 WAYNE, NEB. (KWSN) – With a string of matches against highly ranked opponents, the Sioux Falls volleyball team knows it has to be nearly error-free to win.
On Thursday, the Cougars were not and fell in straight sets to seventh-ranked Wayne State College, 25-13, 25-15, 28-26, at Rice Auditorium in Wayne, Neb.
The Cougars (7-2, 0-1 NSIC) had 17 attack errors, four service errors and five serve-receive errors in the loss to the Wildcats (9-0, 1-0 NSIC).
Much like the Cougars' season-opening loss to Findlay University, USF had some very good moments, but ultimately could not hold up against a powerful Wildcats squad that has dropped three total sets in its first nine matches.
Junior Emily Johnson had eight kills and 11 digs to pace the Cougars and Natalie Minchow added seven stabs off the bench. Sophomore Michelle Ritland chipped in six kills while Kate Hart finished with five.
Senior setter Alexa Reed finished with 25 assists and 11 digs for her first double-double of the season. She also contributed two kills on five swings for a .400 hitting clip. Classmate Andrea Odbert tallied a match-best 20 digs.
Wayne State's engine continued to be powered by freshman Alyssa Frauendorfer, who posted a match-high 16 kills. Wildcat senior Cori Hobbs tallied a twin double-double with 14 kills and 14 digs.
The Cougars out-blocked WSC 4-to-2 but struggled with their passing throughout the match, causing a lack of good opportunities on the attack. With 17 errors and only 35 kills, the Buffs finished with an attack percentage of .154 -- their second-worst of the season.
Wayne State used 5-0 lead in the first set to pull away early then used an 13-4 run in the second set to gain the cushion it needed. The Cougars hit .260 in the third set and split the first 24 points with Wayne State. The Cougars looked to their most reliable hitter to break the tie and Johnson responded with back-to-back kills to move the visitors in front 14-12. A Wildcat attack error made it 15-12 in favor of USF and the Cougars pushed the margin to 19-15 with a Hart spike but the Wildcats roared back with four straight points to tie the set at 19-19. Four more ties sent the game into extras and a kill from Samantha Lovell put the Cougars a point away from clinching the set at 26-25 before Wayne State closed out the match with three straight points.
The Cougars return home to host rival Augustana College at 4 p.m. on Saturday at the Stewart Center. The contest is the first of the 2013 First Dakota National Bank Mayor's Cup Challenge, an annual rivalry trophy that will go to the school that wins the most head-to-head competitions amongst 16 common sports.
Courtesy of University of Sioux Falls