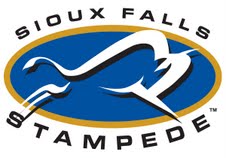 SIOUX FALLS, SD (KWSN) The Sioux Falls Stampede will kick off their 15th anniversary season tomorrow (Saturday) when they travel to Des Moines to face the Buccaneers at 7:05 PM. Fans can listen to the game live on KELO News Talk 1320-AM, 107.9-FM and online at www.kelo.com.
In addition, fans can watch the game live through Fasthockey. The Stampede are coming off a record setting season in which they set franchise records for wins (45), home wins (24) and points (92) while taking home a regular season Western Conference championship.
Last season, the Stampede went 5-1-0 against the Bucs who finished the 2012-13 campaign with a 25-35-4 mark.
Courtesy of Sioux Falls Stampede