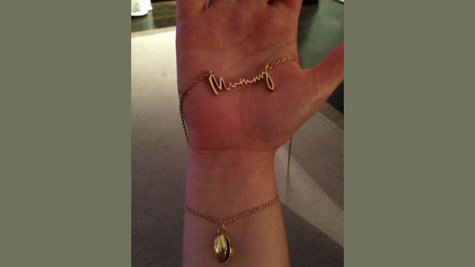 Adele made a rare appearance on Twitter this week that reminded all her fans just how much she loves being a mom to her son, who'll celebrate his first birthday next month.
Adele posted a photo of a hand -- we assume it's hers -- draped in gold jewelry. One of them is a necklace that spells out "Mummy" in script, and the other is either a necklace or a bracelet with a gold oval-shaped charm. She added the caption, "Look at these stunning pieces my friend @LA_VERNEUK made me! That's my handwriting! So personal, so clever x."
La Verne , the jewelry designer who got the shout-out from Adele, is based in Brighton, England, where Adele, her partner, Simon , and their son live. La Verne's Twitter feed has been flooded with requests since Adele posted the photo.
While Adele has never publicly revealed the name of her son, many reports claim that it's Angelo, and in fact, Adele's been seeing wearing a necklace with that name spelled out. She has also been seen with a script letter "A" tattooed behind her ear.
Copyright 2013 ABC News Radio