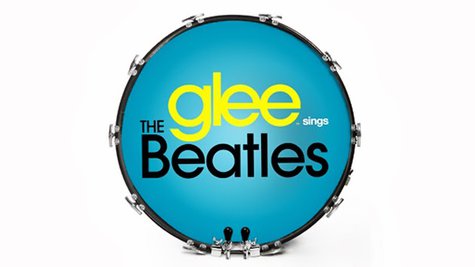 The cast of Glee gets fab -- Fab Four, that is -- on Tuesday with the release of its latest album, Glee Sings The Beatles. The disc features 14 songs from the first two episodes of the show's new season, which gets underway Thursday.
While Beatles songs have been featured on Glee before, the first two episodes are a full-on Beatles tribute, with the cast taking on songs from every part of the legendary group's career. There are early songs like "I Saw Her Standing There" and "A Hard Day's Night," mid-period tracks like "Yesterday" and "Got to Get You into My Life," and late period hits like "Get Back," "Hey Jude" and "Let It Be."
Where does this all fit in, plot-wise? Well, things get started when Will assigns the kids two weeks' worth of Beatles songs to perform. In New York, Rachel has a disappointing callback for Funny Girl , realizes she needs more life experience, and takes a job working with Santana as a waitress. Meanwhile, Artie and Kitty have evidently become involved, Blaine is still plotting the perfect way to ask Kurt to marry him, and Coach Sue returns to McKinley High as its "interim" principal.
Reportedly, Blaine's proposal to Kurt will involve a performance of the Beatles classic "All You Need Is Love," and there are rumors floating around online that he'll say "yes." The name of Thursday's episode is "Love, Love, Love" which is part of the lyrics to "All You Need Is Love."
The second part of the Beatles tribute is called "Tina in the Sky with Diamonds," and it centers on the McKinley High prom; Tina's been nominated for Prom Queen. In New York, Rachel and Santana befriend a fellow waitress, Dani, played by Demi Lovato . Her character will eventually become Santana's love interest.
The third episode of the season is the one that will deal with Cory Monteith 's death.
Here's a list of the songs on the album, and which characters sing them:
"Yesterday" -- Rachel
"Drive My Car"-- New Directions
"Got to Get You into My Life" -- Blaine and Kurt
"You've Got to Hide Your Love Away" -- Artie & Kitty
"Help" -- Blaine, Sam, Ryder and Jake
"A Hard Day's Night" -- Rachel & Santana
"I Saw Her Standing There" -- Blaine, Sam, Ryder and Jake
"All You Need Is Love" -- New Directions, the Warblers, Vocal Adrenaline
"Get Back" -- Kurt & Rachel
"Here Comes the Sun" -- Santana & Dani
"Something" -- Sam
"Sgt. Pepper's Lonely Hearts Club Band" -- Jake, Ryder, Marley & Unique
"Hey Jude" -- New Directions
"Let It Be" -- New Directions, Kurt, Rachel & Santana
Copyright 2013 ABC News Radio