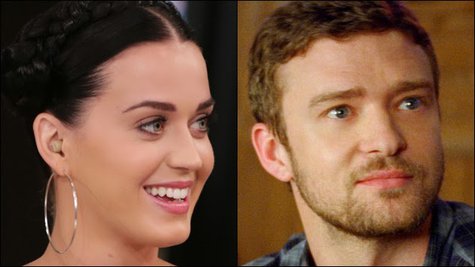 These days, it's not unusual for even the biggest stars to have a sex tape floating around somewhere, but what about those artists who've managed to avoid it up til now? According to a new poll, Katy Perry and Justin Timberlake are the pop stars that adult movie fans would most want to see doing the nasty while the cameras roll.
In the 12th annual Sex Tracker Survey, conducted by Vivid Entertainment and XCritic.com, Katy received 26 percent of the vote -- the largest percentage -- among female pop stars. Coming in at #2 was Selena Gomez , followed by Rihanna and Miley Cyrus , with 20 percent, 10 percent and 9 percent, respectively. Other artists who were mentioned but failed to garner a significant percentage of the vote include Beyonce , Christina Aguilera , Fergie , Shakira , Britney Spears , Pink , Madonna , Lady Gaga , Nicki Minaj and Mariah Carey .
Among male pop stars, Justin got a leading 28 percent of the vote, followed by, bizarrely, South Korean "Gangnam Style" rapper PSY with 13 percent. Adam Levine got 10 percent, followed by Usher and Enrique Iglesias , both with just over eight percent. John Mayer and Justin Bieber each got six-and-a-half percent. Among those artists trailing: Bruno Mars , Bruce Springsteen , David Bowie and Nick Jonas . One Direction 's Harry Styles got no votes.
Justin Timberlake sure is popular among fans of porn. Earlier this year, he and his wife Jessica Biel topped a poll, also conducted by Vivid, asking which celebrity couple fans would most be interested in seeing star in a sex tape. They got nearly 21 percent of the vote, besting second-place finishers Jennifer Aniston and fiance Justin Theroux .
Copyright 2013 ABC News Radio