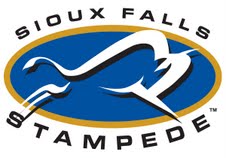 SIOUX FALLS, SD (KWSN)--The United States Hockey League (USHL)announced Monday that Zeb Knutson has been named CCM Co-Forward of the Week. The second-year forward was a driving force in the Stampede's 6-4 win over the Des Moines Buccaneers on Saturday night. The Sioux Falls native tallied a pair of first-period goals in a span of 1:09 and added another in the third to record his first career USHL hat trick. He also tied a game high with a plus-two on-ice rating and led all players with six shots on goal.
Last season, Knutson posted 51 points 26g, 25a) in 61 games while helping lead the Stampede to a regular season Western Conference championship. He has already committed to play collegiate hockey at Minnesota State-Mankato starting with 2014-15 season.
Knutson and the Stampede return to action this weekend when they travel to Indianapolis and Cedar Rapids on Friday and Saturday night. Friday's game is slated to begin at 6:05 PM locally and the puck will drop at 7:05 PM on Saturday. Fans can hear both games live on KELO News Talk 1320-AM, 107.9-FM and online at www.kelo.com. Tickets for the Stampede's home opener on Friday, October 4th are on sale now through the Sioux Falls Arena Box Office or any Ticketmaster location.
Follow the Stampede all season long by downloading the Stampede mobile app! Just search Sioux Falls Stampede on you android or iPhone device. Follow the Stampede on Facebook and Twitter as well @sfstampede for "15 Days of Giveaways" now through the home opener.
Courtesy of Sioux Falls Stampede