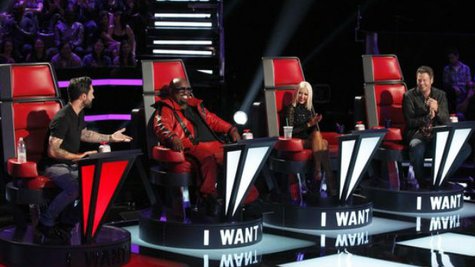 The fifth season of NBC's The Voice began Monday night with the four original coaches together again: Adam Levine , Blake Shelton , Christina Aguilera and Cee Lo Green , the latter of whom was sporting what appeared to be a henna tattoo on the top of his head.
Christina and Cee Lo are returning from hiatus after Shakira and Usher filled in for them during the spring 2013 season.
The coaches got things started with a performance of "I Love Rock 'n' Roll" by Joan Jett & The Blackhearts . After that, they moved on to the blind auditions.
Here are the highlights from Monday's premiere:
The first contestant of the new season was Kat Robichaud , an Alanis Morissette -look-alike with a raspy voice. She convinced Christina, Blake and Cee Lo to turn their chairs with her rendition of The Kiki Dee Band 's "I've Got the Music in Me." Christina was enthusiastic about the prospect of working with Kat. Adam suggested that Blake would be the wrong choice for her, since her influences include classic rock acts like Queen and David Bowie . Kat ultimately chose Cee Lo.
Donna Allen , a former member of Gloria Estefan 's backing band, Miami Sound Machine , had Christina waving her hands in the air like a conductor as she sang Joe Cocker 's "You Are So Beautiful." Christina pressed her button, saying Donna's voice was like "the heavens opening up." Her only competition for Donna was Adam, who couldn't believe Blake and Cee Lo weren't fighting over her, too. Donna went with Christina.
All four coaches simultaneously turned their chairs just moments after Matthew Schuler launched into the Young the Giant tune "Cough Syrup." At the end of the performance Blake walked onto the stage and gave him a handshake, while Christina embraced him. Cee Lo attempted to convince Matthew that he could help the contestant "own" his talent. Adam claimed he knew for a fact that he and Matthew could win the competition together. Christina made a similar plea, and it worked for her: Matthew joined her team.
Matthew Brea , 15, was motivated by the memory of his late brother. He performed the Jackson 5 's "I Want You Back," but it wasn't enough to land a spot on one of the coaches' teams. Afterward, Cee Lo gave a teary-eyed Matthew some words of encouragement backstage.
Shelbie Z. brought a country flavor to the show with Gretchen Wilson 's "Here for the Party." She had the option of teaming up with either Blake, Christina or Cee Lo. Blake commended her for performing such a tough song, then made an appeal to her by joking, "This is no time for monkeying around." Blake will get the opportunity to mentor Shelbie this season.
The fedora-wearing Josh Logan covered the Alex Clare hit "Too Close." Adam, Christina and Blake all made a bid for his services. Adam called his voice "legit." Blake took it a step further by announcing his "man crush" on Josh. Eventually Blake and Adam bickered, leading to the two hugging out their differences. Josh picked Christina.
Delvin Choice , the 24-year-old "singing barista," brought his charisma and his unique hairdo -- it was in the style of will.i.am , but puffier, and he named it "The Lobster" -- to The Voice stage. He sang Ne-Yo 's "Closer." He was rejected by all of the coaches.
Bespectacled 22-year-old James Wolpert closed the show with a wonderful performance of the Jack White single "Love Interruption." Blake said the baby-faced James looks much different than he expected. Christina tried to lure James by mentioning that she was raised near Pittsburgh, where he works. James decided to become a member of Team Adam.
The blind auditions will continue with another two-hour episode Tuesday night, beginning 8 p.m. Eastern time on NBC.
Copyright 2013 ABC News Radio