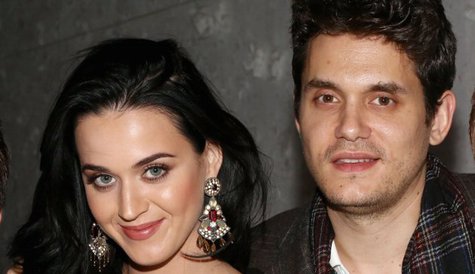 Katy Perry duets with her boyfriend John Mayer on his current album Paradise Valley, but until now, it was assumed that John didn't appear on her upcoming album, Prism . But now, it's been revealed that he was very much involved with the project.
Billboard reports that on Prism , John co-wrote a song with Katy called "Spiritual" and plays guitar on another track called "It Takes Two." But perhaps more importantly, Katy tells Billboard that John came up with the title of the album as well, and that it's a reference to her "wide spectrum of emotions."
"He literally is a genius, as is evident from his songwriting," Katy gushes to Billboard. "I always tell him, 'Darling, you know I'm going to have to give your mind to science after you've passed, because we're going to have to understand how all these sparks work.'"
She marvels at the fact that while they're in bed, he can finish the crossword puzzle in under 10 minutes. "When he puts his mind to something, he really gets it done very well. I always ask for his help," she reveals.
Prism also includes some references to Katy's ex-husband Russell Brand . Billboard reports that one song, "Ghost," includes the line "You sent a text/It's like the wind changed your mind" is a reference to the fact that Brand told Katy he wanted a divorce via text. Another song, "By the Grace of God," describes her lying on a bathroom floor with suicidal thoughts.
"That song is evident of how tough it really was at a certain point," Katy tells Billboard. " All the songs are real-life moments. I can only write autobiographically. I put all the evidence in the music. I tell my fans if they want to know the real truth about stuff, just listen to the songs."
Katy covers the new issue of Billboard , on newsstands September 30.
Copyright ABC News Radio 2013