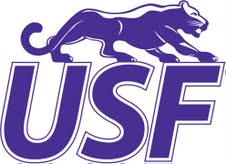 SIOUX FALLS, S.D. (KWSN) –Emily Johnson's third straight double-double wasn't enough to lift USF (8-4, 1-3 NSIC) to victory Friday night, as the Cougars were upended at home by MSU-Moorhead three sets to one (25-27, 29-27, 25-23, 25-15).
Johnson finished with 12 kills and 14 and was one of four Cougars to record double-digit kills. Samantha Lovell put down 12 kills while hitting .308 and Kate Hart chipped in 11 terminations to go with seven digs. Michelle Ritland had 10 kills. Lovell also put up a team-best six blocks, one solo.
Annie Palquist paced the Dragons (10-2, 3-1) with 17 kills on 40 swings. Morgan Gradishar posted a double-dip with 11 kills and 14 digs.
USF took an early 4-0 lead in the opening set with the help of a Johnson spike. The former Platte-Geddes star added an ace as the Cougars doubled up the visiting Dragons, 8-4. USF then used some trickery on the next sideout when senior setter Alexa Reed laid a perfect dump in the donut to make it 9-5. The Cougars led 16-9 after Becky Wessel whitewashed a back row player with her first ace of the match. MSU-Moorhead responded with a 4-0 run before another Johnson termination ended the rally. A backcourt kill from Jordan Calef gave USF a five-point advantage at 21-16 but the Dragons roared all the way back, tying the set at 24-24. A USF attack error gave MSU-Moorhead its first set point, but a huge Lovell solo block tied it once again. Johnson followed with solo rejection to reach set point and USF finished it off on a rip by Lovell, taking the set 27-25.
USF out-hit the Dragons .262-.217 in the first set and things looked good for the Cougars in set two as they jumped in front 8-4 after a Dragon ball-handling error. The lead was five at 15-10 but a 9-3 burst gave Moorhead its first lead of the match and USF was forced to call timeout when an attack error made it 20-18 in favor of the visitors. The Cougars battled to tie it at 23 and the back-and-forth battle continued through four more ties. With the score tied at 27-27, a Gradishar kill combined with a Cougar attack error allowed Moorhead to complete the comeback.
USF again had the upper hand early in the third set, taking a 7-2 lead with Lovell's cut shot and had the Dragons doubled up at 12-6 after Moorhead was called for fishing. The margin was eight for USF when Hart placed Reed's dime just inside the backcourt but a Dragon block stopped the bleeding at 14-7. A vicious 8-2 run cut the Cougars' lead to just one at 16-15. The Dragons later tied it and used an ace to take their first lead at 23-22 and force a Sioux Falls timeout. Johnson and Lovell teamed up for a block out of the break but an attack error and mishit Dragons ran away with the score, 25-23 to claim a 2-1 lead in the match.
Moorhead took a huge lead in the fourth set, up 9-1 with the help of an ace, and maintained control of the score throughout the frame. After trailing 12-4, the Cougars tried to make a run but the Dragons wouldn't let them get any closer than six points. Moorhead closed out the set, 25-15, to improve to 2-2 on the road this season.
The Cougars were out-hit by Moorhead, .207-.168. The Dragons edged USF in total blocks, 13-9 and both teams finished with 67 digs.
USF will host Northern State (9-2, 2-2) tomorrow at 4 p.m. in the Stewart Center.
Courtesy of University of Sioux Falls