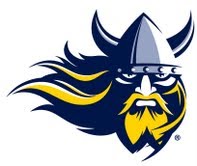 SIOUX FALLS, S.D. (KWSN) – Augustana College women's golf returns to the links after a weekend off and will participate in the Upper Iowa University Spring Invite in Wayne, Neb. on Saturday and Sunday.
Augustana is coming off an impressive second place finish at the Otter Invite in Seaside, Calif. on March 25. The Vikings were in third place after one round of play at the Otter Invite and shot a 316 in both rounds to finish with a 632, just three strokes behind Cal State East Bay who won the 15-team tournament with a 53-over-par 629.
Augustana had two top-10 finishers at the event, with Marisa Toivonen placing sixth overall and Allie Ostrander close behind in seventh. Toivonen earned her second straight NSIC Women's Golfer of the Week honors shooting eight-over-par 152 to register her second straight and seventh overall top-10 finish of the season.
The sophomore shot a 77 in round one and a 75 in round two to post her second-best score against par in her sophomore season. Ostrander picked up her second top-10 finish of the season at the Otter Invite finishing at 10-over-par 154 (78-76) after take two strokes off her opening round.
Maggie Leland finished one stroke out of the top 10 finishing the 36-hole tournament with a 14-over-par 158 (77-81).
Augustana will have just four more rounds before participating in the spring portion of the NSIC Championships in Morton, Minn. on April 25-26.
After the Upper Iowa Invite this weekend, Augustana will host its annual spring invite on April 12-13 at Prairie Green Golf Course in Sioux Falls.
Courtesy:Augustana College