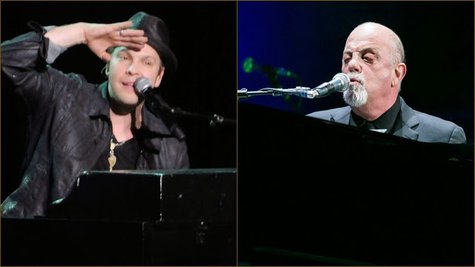 Billy Joel is the performer who made Gavin DeGraw want to make music his career, and now, he's been tapped as the Piano Man's opening act for select shows this spring and summer. Gavin says not only is it a dream come true to share a bill with Billy, but he's been getting a lot of ideas for his own concerts in the process.
Speaking to the paper The Elkhart Truth , Gavin says of his shows with Billy, "I'm watching the shows sidestage and singing along. I'm watching that very, very special thing that happens between artist and audience." For example, fans of Billy Joel know that he can be a real comedian onstage, and those are the moments that Gavin says he's observing with special attention.
"Especially in the spaces between the songs...those are great opportunities for the audience and the artist to interact with each other, for those little comments...or little jokes," Gavin explains. "Those things that allow the audience to know the artist is just another human being and they're just like their audience."
"I'm a fan and I'm an artist, and I'm studying that," he adds. "It's a great thing to be learning, and I'm excited to bring that into my own tour...I'm really looking forward to taking my shows to the next level."
Gavin says that Billy's audiences have been very receptive to his opening sets, and he says he thinks he knows why.
"He's Billy Joel and I'm someone who grew up listening to Billy Joel, so it's a natural fit in my mind," he tells the paper. "I think it also helps too that he's a New Yorker and I'm a New Yorker." The fact that both men are singer/songwriters who play the piano probably doesn't hurt, either.
This summer, in between dates with Billy, Gavin will be co-headlining a tour with Matt Nathanson.
Copyright 2014 ABC News Radio