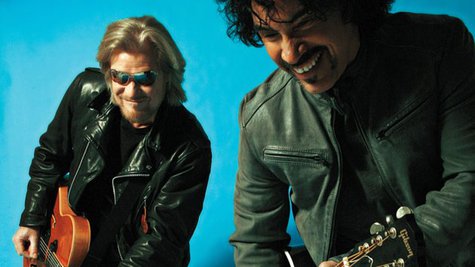 The 29th annual Rock and Roll Hall of Fame induction ceremony takes place tonight, and for the first time it will be held at the Barclays Center in Brooklyn, New York. Daryl Hall and John Oates , Linda Ronstadt , Cat Stevens and Peter Gabriel are all among this year's inductees , as well as influential grunge band Nirvana and veteran band KISS . In addition, Bruce Springsteen 's backing group The E Street Band will be inducted as part of a category called "Award for Music Excellence."
Hall and Oates will be inducted by a fellow Philadelphia musician, Questlove , the leader of Jimmy Fallon 's house band The Roots . Coldplay 's Chris Martin will induct Peter Gabriel, while the Eagles ' Glenn Frey , who used to be part of Linda Ronstadt's backing band, will induct the singer. Michael Stipe of R.E.M . will induct Nirvana, and KISS will be ushered into the Hall by Tom Morello of the alternative rock band Rage Against the Machine. The person inducting Cat Stevens has not been announced.
Most of the acts are expected to perform, except for KISS, who couldn't settle their differences, and Linda Ronstadt, who is skipping the ceremony because she's been battling Parkinson's disease. However, Stevie Nicks , Carrie Underwood , Bonnie Raitt , Emmylou Harris and Sheryl Crow will all take part in a musical tribute to her.
Kelly Clarkson , one of the many female acts who was influenced by Linda Ronstadt, is distressed that the music legend says that Parkinson's has robbed her of her ability to sing. "It's just such a shame...I grew up on Linda Ronstadt. My mom, that's her favorite singer," Kelly says. "I love her, and...it's a shame with something that debilitating can happen to someone." She adds, "Honestly...it just sucks."
In contrast to those acts who've lost a member, like Nirvana, and those who can't stop bickering, like KISS, John Oates says he's grateful that not only are both he and Daryl Hall still around and able to perform at tonight's event, but they're doing so with no problems between them.
"Daryl and I are still out there actively touring, and we still get along. It's amazing after all these years," John tells ABC News Radio. "You know, we can go our separate ways for a while. We come back together, and it's like nothing's changed. So, I'm very proud of that and…I think we'll be very happy to be [at the induction ceremony]. It'll be a very exciting and emotional night, I'm sure." John says he's especially looking forward to the traditional all-star jam that closes each Rock Hall induction ceremony.
Among this year's class of inductees, Nirvana is the newest act: their groundbreaking album Nevermind was released in 1991. Its impact was such that many people feel it absolutely changed the entire music industry overnight; Nirvana's success went on to open doors for a whole new era of bands. Johnny Rzeznik of the Goo Goo Dolls certainly feels that way.
"They single-handedly just, like, changed the course of music, like, all at once. Everything that came before them, everything that was huge before them, became irrelevant that fast," Johnny tells ABC News Radio. Even though the Goo Goo Dolls -- who started out as an alternative rock band -- pre-dated Nirvana, it wasn't until after their success that they began scoring hits like "Name," "Iris" and "Slide," as Johnny explains.
"Absolutely [they opened doors for us]," he says. "That band..well, Pearl Jam and Soundgarden and Alice in Chains and Nirvana, it was a paradigm shift right there with the whole grunge thing. And we were sort of like the guys five years later that came around, and alternative rock became sort of mainstream."
The 2014 Rock and Roll Hall of Fame Induction ceremony will air on HBO on Saturday, May 31.
Copyright 2014 ABC News Radio