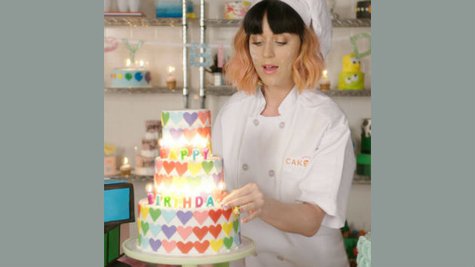 Katy Perry and Phillip Phillips both have some new eye candy for their fans over at VEVO: Phillip has released the official video for his new single, "Raging Fire," while Katy has premiered the lyric video for her new single, "Birthday."
Katy's video is literally eye candy : It was filmed at Duff's Cakemix , a bakery, cafe and studio owned by Ace of Cakes chef Duff Goldman. The video spells out the lyrics of the song on a variety of sweet treats, including cakes, cake batter, icing, cookies, candy and cupcakes. At the end, we see Katy herself, in chef's whites, putting the finishing touches on a cake with lit candles that spell out "Happy Birthday." Her hair is an odd mix of black and orange.
"Birthday" is the latest single from Katy's album PRISM.
Meanwhile, in the video for "Raging Fire," Phillip is shown walking around outside playing his guitar in a variety of different cityscapes, and that's intercut with shots of him lying on a huge sheet of paper while a team paints a design around him in red, blue, gold and black. Then, the team starts painting on Phillip himself, completely covering him with paint -- even his face -- until he becomes part of the design. As the video ends, he gets up from the paper, and leaves behind a Phillip-shaped white hole.
"Raging Fire" is the lead single from Phillip's sophomore album, Behind the Light, which is due out next month.
Copyright 2014 ABC News Radio