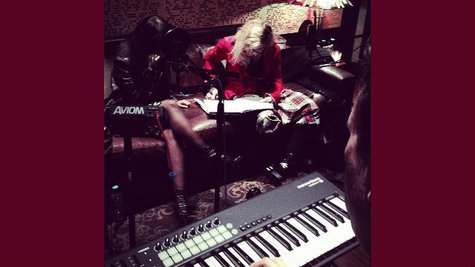 Madonna may not be Lady Gaga's biggest fan, but she apparently doesn't have any problem working with Gaga's collaborators.
Billboard reports that Madonna is currently in the studio working on new music with Natalia Kills , a singer/songwriter, and Martin Kierszenbaum, the founder and chairman of Cherrytree Records and a senior executive at Interscope Records. In those capacities, Kierszenbaum worked on Gaga's debut album The Fame , but he also co-wrote and produced four songs on that disc. In addition, he worked in an executive capacity on Gaga's EP, The Fame Monster.
Madonna's next album will be released on Interscope.
Madonna posted a photo of herself on her Instagram account with Natalia in front of a couple of microphones, and according to Billboard , Kierszenbaum is in the foreground, behind a keyboard.
"Working the midnight shift with Natalia Kills. 2 girls on a couch… don't it taste like Holy Water?," Madonna captioned the photo, adding her now-standard hashtags #artforfreedom, #rebelheart, and #revolutionoflove.
Madonna has previously revealed that she's working on her new album with Swedish producer/deejay Avicii , the man behind the hits "Wake Me Up" and "Hey Brother."
Madonna made headlines a couple of years ago by speaking not-very-enthusiastically about Lady Gaga's song "Born This Way," which she said was "reductive" of her own hit, "Express Yourself." Seeking, perhaps, to highlight the song's similarities, she later performed a mash-up of both tracks during her super-successful MDNA tour in 2012.
Copyright 2014 ABC News Radio