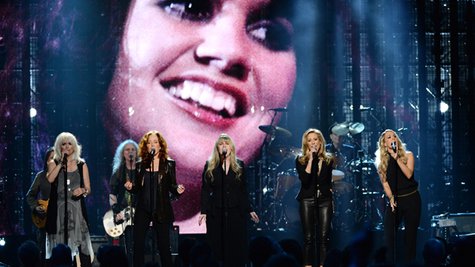 The 29th annual Rock and Roll Hall of Fame induction ceremony was held in the Barclays Center in Brooklyn, New York, on Thursday night. Daryl Hall and John Oates , Linda Ronstadt , Cat Stevens , Peter Gabriel , Nirvana and KISS comprise the class of 2014. In addition, Bruce Springsteen 's backing group, The E Street Band, was inducted as part of the "Award for Music Excellence" category.

When Hall of Fame co-founder and Rolling Stone magazine publisher Jann Wenner announced the names of the inductees, KISS, The E Street Band and Nirvana received the loudest applause.

-- Peter Gabriel was inducted as solo artist; he's already in the hall as a member of Genesis . Gabriel performed "Digging in the Dirt" before being inducted by Coldplay frontman Chris Martin , who told the audience his mother always told him to read the Book of Genesis when he was nervous. Martin went on to tell a story about the "Angel Gabriel," quoting lyrics from Genesis songs and some of Peter's solo work. Martin also noted that Peter "helped John Cusack get his girlfriend back in the movies Say Anything . Of course, Cusack famously held a boom box over his head in the film while Gabriel's "In Your Eyes" played.

In Gabriel's acceptance speech, he offered two pieces of advice; "If you're exploring making music, I say two things: Dream big and let your imagination guide you, and surround yourself with brilliance -- the brilliance of those you love being around and the brilliance of their talent."

Gabriel then performed, "Washing of the Water" and "In Your Eyes."
-- Linda Ronstadt, suffering with Parkinson's disease, couldn't make it to the ceremony but she was well represented. Eagles ' member Glenn Frey inducted his longtime friend and began his speech by declaring, "I'd like to say, It's about time." Frey said "Linda's legacy gives us so much to celebrate and contemplate."

Frey's speech was followed by an amazing musical tribute to Ronstadt's hits by Sheryl Crow , Stevie Nicks , Carrie Underwood , Bonnie Raitt and Emmylou Harris . Underwood started out by singing "Different Drum," Ronstadt's first hit with the group Stone Poneys . Raitt and Harris joined her for "Blue Bayou." Sheryl Crow then joined the fun as Glenn Frey sang backup for "You're No Good." Stevie Nicks came out and did a great rendition of "It's So Easy."

Nicks complimented Underwood on her rendition of "Different Drum," then shared that hearing that song in high school made her want to go into music. Referring to Ronstadt's outfits at the time, Nicks remarked, "I didn't look that good in cutoffs, but that's what I was going to do." The tribute ended with a performance of Ronstadt's "When Will I Be Loved."

-- Bruce Springsteen was brilliant while inducting his E Street Band, sharing quick stories about every single member of the band. Then every surviving member of the band spoke. It lasted nearly 40 minutes. They went on to perform, "E Street Shuffle," "The River," and "Kitty's Back." Springsteen was inducted in 1999.

-- Following The E Street Band's epically long acceptance speech, John Oates said to the audience, "Lucky for all of you there are only two of us." The Roots ' Questlove inducted Hall and Oates. Darryl Hall pointed out they are the only Philadelphia band to make the Rock and Roll Hall of Fame and then lamented, "That's f***ed Up." Hall and Oates performed "She's Gone," "You Make My Dreams Come True" and "I Can't Go For That." What you won't see on the HBO broadcast of the event is that Darryl Hall stopped after 45 seconds into "She's Gone" and jokingly complained, "I have no monitors. What? Did Bruce blow them out?"
-- Rage Against The Machine 's Tom Morello gave one of the most impassioned induction speeches the Rock and Roll Hall of Fame has ever heard. He walked on stage and exclaimed, "Tonight is the night KISS enters the Rock and Roll Hall of Fame." Morello went on to say, "Kiss was never a critic's band, KISS was a people's band" and cited his three criteria for making it into the hall: "impact, influence and awesomeness" and, according to Morello, "KISS has all of them in spades."

Despite the controversy surrounding the KISS induction, founding members Paul Stanley , Gene Simmons , Peter Criss and Ace Frehley were affectionate toward each other on stage. Paul Stanley touched on his criticism that the way the Rock and Roll Hall of Fame decides who to induct isn't right. Stanley said, "I believe the spirit of rock and roll is to follow your own path regardless of your critics and fans," continuing, "the people want to be part of the induction. The people pay for tickets, the people buy albums -- the people who vote do not."

-- Art Garfunkel inducted Cat Stevens. Stevens, a devout Muslim who now goes by the name Yusuf Islam , called the decision to induct a guy who doesn't drink, doesn't smoke and only speaks with his wife, a brave decision and strangely rock and roll. He performed three of his hits: "Father and Son," "Wild World" and "Peace Train."
-- Former R.E.M. singer Michael Stipe inducted Nirvana. He described the band's sound as "a sweet and beautiful but fed-up fury coupled with howling vulnerability." Surviving members Dave Grohl and Krist Novoselic were joined on stage by Kurt Cobain's widow, Courtney Love , and Cobain's mother and sister. Grohl told the audience, "I was the quiet one in Nirvana. I was the drummer. Most of you don't know, I was the fifth drummer in Nirvana." He went on to thank the four drummers before him.

Novoselic said the music of Nirvana "means so much to so many people. Kurt was an intense artist and he connected with so many people."

Kurt Cobain's mother, nearly in tears, walked up to the mic and said, "I just miss him so much. He was such an angel."

Joan Jett joined Grohl, Novoselic and guitarist Pat Smear in a performance of "Smells Like Teen Spirit." Singer Annie Clark , aka St. Vincent , then performed Nirvana's "Lithium," and Sonic Youth 's Kim Gordon performed "Aneurysm." The biggest surprise of the night was when 17-year-old Lorde came out to sing "All Apologies."

-- The late Beatles manager, Brian Epstein , and former Rolling Stones manager Andrew Loog Oldham were inducted as non-performers.

The 2014 Rock and Roll Hall of Fame Induction ceremony will air on HBO on Saturday, May 31.
Copyright 2014 ABC News Radio