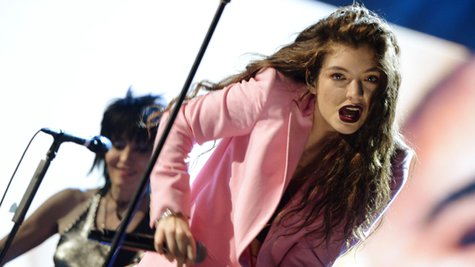 One of the big surprises at this year's Rock and Roll Hall of Fame induction ceremony, held Thursday night at the Barclays Center in Brooklyn, was the appearance of Lorde, who came out to perform the song "All Apologies" with the surviving members of Nirvana , who were among those being inducted. As she revealed on Twitter, Lorde couldn't have been more thrilled to have been included.
The 17-year-old star, who wasn't even born when Nirvana frontman Kurt Cobain took his own life 20 years ago, was one of several female singers who performed with the band: the others were '80s icon Joan Jett , Kim Gordon of seminal alternative rock band Sonic Youth , and up-and-coming singer Annie Clark , who records under the name St. Vincent .
"So honoured and happy i got to help celebrate nirvana's rock and roll hall of fame induction tonight. true f**ing rock stars, all, forever," Lorde tweeted . Giving props to the other female stars, she added, "And man, joan, annie and kim give a healthy display of Coolest Women You Will Ever Meet Behaviour."
It's been a great week for Lorde: on Wednesday, she also received 12 Billboard Music Award nominations, the same day she received news that her song "Team" went double platinum. "sh**t today has just been one surprise after another hasn't it," she tweeted. "thankyou. seriously. y'all change my life every day. Did I just say y'all?"
Copyright 2014 ABC News Radio