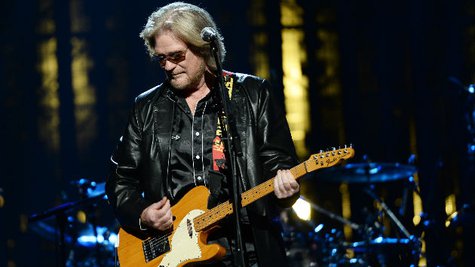 Daryl Hall has something else to feel great about, besides the fact that he's just been inducted into the Rock and Roll Hall of Fame: His TV show Live from Daryl's House has been renewed for another season.
The show, which features Daryl jamming with different artists in a variety of musical genres, airs on the HD music channel Palladia; production on the new season will begin in the fall. The show used to literally be taped in Daryl's house in New York State, but since that home was sold, the show has moved to a club called "Daryl's House," which is in Pawling, New York. The new shows will debut in early 2015 on Palladia and at LiveFromDarylsHouse.com .
"Palladia understands what my show is about, and I look forward to my continued relationship with them," said Daryl in a statement.
Some of the artists who've been featured on Live From Daryl's House in the past have included Gavin DeGraw , Rob Thomas , Jason Mraz, Plain White T's , Cee Lo Green , Johnny Rzeznik of the Goo Goo Dolls , Joe Walsh , Smokey Robinson and, of course, Daryl's musical partner John Oates.
On Thursday night, Daryl and John were inducted into the Rock and Roll Hall of Fame alongside KISS , Nirvana , Linda Ronstadt , Cat Stevens , Peter Gabriel and Bruce Springsteen 's E Street Band . Many attendees felt that the E Street Band's portion of the program ran on way too long, as each member of the extremely large group took a turn at the podium to say a few words. Daryl agrees, telling Rolling Stone magazine after the fact, "It was ridiculous. Can I just say, you don't give each member of a 12-piece band 20 minutes. You don't do that. That's bad planning."
As for their own induction, Daryl tells the magazine, "We're probably the only duo in history that's still friends. Even the Everly Brothers didn't like each other."
Copyright 2014 ABC News Radio