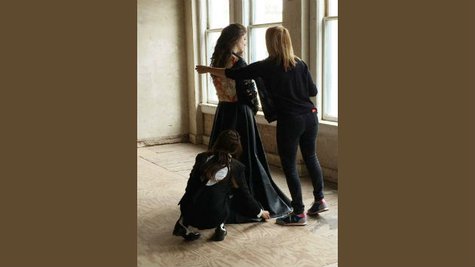 Lorde has been outspoken in the past about the way that images of her are sometimes Photoshopped without her consent. But her latest accusation, against the Canadian magazine FASHION , has no merit, according to the editor-in-chief of the publication.
A few days ago, Lorde tweeted , "apart from the fact that i'm pretty sure this magazine gave me a new nose (:|), i really like this photo." She included a photo from her recent spread for FASHION , showing her looking beautiful in a motorcycle jacket and floor-length leather skirt.
But in a statement provided to ABC News Radio, Bernadette Morra , the editor-in-chief of the publication, said, "I can assure you, FASHION Magazine did not give Lorde a new nose. Sometimes lighting or camera angles can give the impression that things look smaller, larger or different than they really are."
Lorde appears on the cover of the May issue of FASHION .
Last month, Lorde tweeted a photo of herself on stage, and another image of the same performance, showing how her acne had been Photoshopped out. "i find this curious - two photos from today, one edited so my skin is perfect and one real. remember flaws are ok :-)," she wrote.
Copyright 2014 ABC News Radio