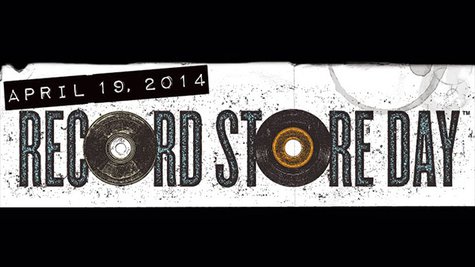 If your turntable's currently collecting dust in your attic, you may want to get it down, clean it off and plug it in: this Saturday is Record Store Day.
This annual event sees hundreds of artists of every musical genre creating special vinyl-only singles and albums, which you can buy exclusively at your local record store. The idea is to keep these local stores in business in an era when most of us purchase music with the click of a mouse.
The marquee release of this year's event is Bruce Springsteen 's American Beauty , a 12-inch disc featuring four previously unreleased songs from the sessions that also yielded the Boss' latest album, 2014's High Hopes . A related disc is a 7" version of Ronnie Spector 's version of Billy Joel 's song "Say Goodbye to Hollywood," which she recorded in 1977 with Bruce and the E Street Band .
Fleetwood Mac is offering a 7" vinyl single of the 1970 song "Dragonfly," which was Fleetwood Mac's first single with Christine McVie as a full member of the group. John Oates of Hall & Oates , meanwhile, has a 7" single featuring two songs : "Stone Cold Love" and "Close." John co-wrote and co-produced the first song with OneRepublic 's Ryan Tedder , and Ryan sings backing vocals on the second tune.
While the majority of Record Store Day releases come from alternative bands, there are other pop releases too. A 12" picture disc version of Katy Perry 's album PRISM is available, and fun. has a 10" vinyl disc featuring unreleased demos from their debut album, Aim & Ignite.
The members of One Direction aren't old enough to remember a world without CDs, yet they've prepared a seven-inch vinyl picture disc of "Midnight Memories," the title track from their most recently album. The artwork features the boys dressed up like '80s hair-metal rockers -- appropriate, since "Midnight Memories" sounds an awful lot like Def Leppard .
In addition, Phillip Phillips will be performing live at one of the participating stores: Rasputin Music , in Berkley, California. Not only can you catch his show, but you can pre-order his new album Behind the Light , and receive a wristband to meet him afterwards.
For all the details about which artists are releasing what, and which stores are participating, visit RecordStoresDay.com .