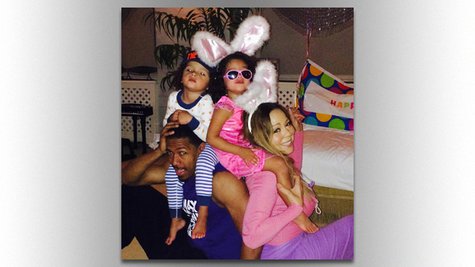 Mariah Carey celebrated Easter with her husband Nick Cannon and their two-and-a-half-year-old twins, Monroe and Moroccan , on Sunday, and she shared a series of photos with fans on Twitter.
The first post featured Mariah, 43, posing with Cannon, 33, and the twins, along with the caption, "Happy Easter!!!!"
A little later, Mariah tweeted a picture of Monroe and her sporting matching bunny ears, with the message, "Easter bunny? Are you coming??? - Love, Ms. Monroe & Ms. Mariah."
Cannon also got in on the fun, posting a picture on Instagram showing some goodies left by the Easter Bunny, captioned, "Such a beautiful day! #happyeaster."
"The Easter Egg Hunt was going down!!" accompanies another picture of the twins hunting for more treats.
Copyright 2014 ABC News Radio