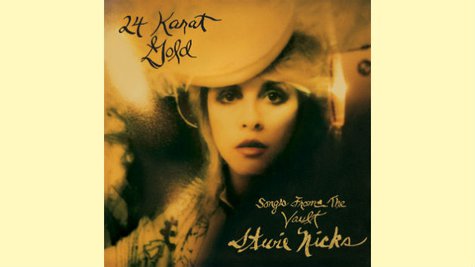 Fans can now pre-order Stevie Nicks ' upcoming studio album, 24 Karat Gold -- Songs from the Vault , a collection of older tunes by the Fleetwood Mac singer that have never before seen the light of day. The album, which will be issued in multiple configurations on October 7, mostly features songs that Nicks wrote between 1969 and 1987, as well as two that were written in 1994 and 1995.
24 Karat Gold -- Songs from the Vault will be available as a standard and deluxe digital download; as a Deluxe Photobook CD that includes two bonus tracks, a 48-page book of exclusive pics from Stevie's personal collection and access to a digital version of the album; and as a Deluxe Photobook + Litho Album Bundle, featuring all of the aforementioned items as well as a limited-edition, numbered lithograph of a Polaroid from Nicks' collection. In addition, a limited-edition double-vinyl version of 24 Karat Gold , which also includes access to a digital download of the album, will be released on September 29.
Meanwhile, a lyric video for "The Dealer," one of the tunes on 24 Karat Gold , can be viewed now on Nick's official YouTube channel . People who pre-order the album automatically will receive a download of the track.
Nicks recorded the songs over the course of two weeks with a group of respected Nashville session musicians she compares to Tom Petty and the Heartbreakers .
"When you write a song and it doesn't go on a record, it floats around in your life for years," Stevie says of the project. "Sometimes I can't remember what happened yesterday but I remember so well what happened through the whole period of time that I wrote these songs. You think about them and go over them and they live inside of you until they becomes part of your world. These songs are now 24 Karat Gold ."
In conjunction with the upcoming album, Nicks has launched a new official Instagram page where she will post snippets of the new songs, as well as vintage photos.
Here is the track list for the deluxe version of 24 Karat Gold :
"Starshine"
"If You Were My Love"
"Mabel Normand"
"Twisted"
"24 Karat Gold"
"Belle Fleur"
"All the Beautiful Worlds"
"Lady"
"I Don't Care"
"Watch Chain"
"Hard Advice"
"Carousel"
"Blue Water"
"Cathouse Blues"
"The Dealer
"She Loves Him Still"
Follow @ABCNewsRadio Copyright 2014 ABC News Radio