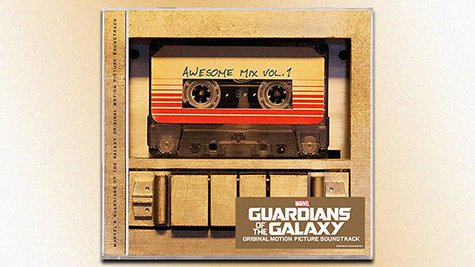 A lot of people came and got the soundtrack to the movie Guardians of the Galaxy in the past week. The album, subtitled Awesome Mix Vol. 1 , is the new #1 disc on the Billboard chart.
The soundtrack to the Marvel movie, which debuted at #3 last week, experienced an 83% increase in sales this past week, according to Nielsen SoundScan, leading to its rise to the top. It's the second soundtrack to top the chart this year, after Disney's Frozen . Marvel and ABC News are both owned by Disney.
What's especially notable about the Guardians of the Galaxy is that it's the first ever soundtrack to hit #1 that's made up of previously-released songs. Every track is from the late sixties and early seventies -- many of them were big hits, but they're songs you simply don't hear a lot these days. Among the gems: "Come and Get Your Love" by Redbone , "O-o-h Child" by the Five Stairsteps, "Escape (The Pina Colada Song)" by Rupert Holmes, "Fooled Around and Fell in Love" by Elvin Bishop , and, of course, "Hooked on a Feeling" by Blue Swede, which earlier this year exploded on iTunes after being featured in the movie's trailer.
What's also notable is that all the songs on the Guardians of the Galaxy soundtrack are part of the film's: they all appear on a mixtape that the main character's mother gave him, a mixtape he loves so much, he risks his life more than once to retrieve it.
By the way, the last year that more than one soundtrack reached #1 on the album chart was 2009, when Hannah Montana: The Movie, The Twilight Saga: New Moon , and Michael Jackson's This Is It all managed that feat.
Follow --ABCNewsRadio
Copyright 2014 ABC News Radio