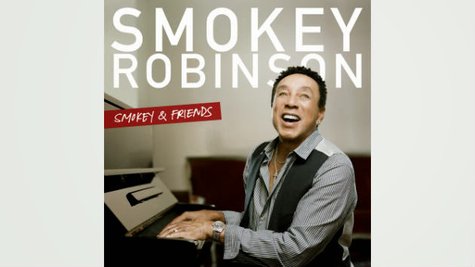 Rock and Roll Hall of Famers, rising young stars and, it seems, everyone in between have all jumped at the chance to be included on Smokey & Friends , a new star-studded duet album from Motown legend Smokey Robinson that's in stores today.
The guest list on the album is a who's who of musicians from both yesterday and today: it includes Elton John , James Taylor , Aerosmith 's Steven Tyler , Sheryl Crow , Mary J. Blige , John Mayer , Aloe Blacc , Cee Lo Green , John Legend , Jessie J and more. Each of them duets with Smokey either on a hit he wrote and performed himself, or a hit he wrote for another artist. Some of the artists have been friendly with Smokey for years, while others have never met the singer, but the whole project was brought together by former American Idol judge Randy Jackson .
"They called Randy to be the producer of this record. Randy, in turn, called a bunch of artists and asked them to pick their favorite Smokey Robinson song," Smokey tells ABC News Radio, explaining how the album was put together. "Didn't necessarily have to be one that I had sang, but one that I had written. And he recorded that particular song with that artist, and what he did...was to let that artist do...their take on that song, and that's how the record was produced. And [then] I'd just adhere to whatever their interpretation of the song was."
Among the duets: Elton John and Smokey singing "The Tracks of My Tears," and James Taylor and Smokey doing "Ain't That Peculiar," which Smokey wrote for Marvin Gaye .
"Elton, I've known him forever and ever and ever...We are really good friends...I performed for his AIDS Foundation many times," Smokey tells ABC News Radio. "And, James the same thing. I've known James forever...we've worked together before. In fact, James and Sting and Elton and I worked together at Carnegie Hall one time. So it's a great thing to work with your friends like that."
But Smokey's just as excited about the younger stars who are on the record. Asked what surprised him the most about the project, he tells ABC News Radio, "I think that probably the fact that some of the younger people who were there...were aware of my songs enough to want to record one and to volunteer their talents to this particular record. That's a good thing to know. I mean, I'm very happy about that."
Here's the track listing for Smokey & Friends:
"The Tracks of My Tears" -- Elton John
"You Really Got a Hold on Me" -- Steven Tyler
"My Girl" ­-- Miguel, Aloe Blacc & JC Chasez, John Mayer on guitar
"Cruisin'" -- Jessie J
"Quiet Storm" ­-- John Legend
"The Way You Do (the Things You Do)" -- Cee Lo Green
"Being with You" -­- Mary J. Blige
"Ain't That Peculiar" -- James Taylor
"The Tears of a Clown" -- Sheryl Crow
"Ooh Baby Baby" ­-- Ledisi
"Get Ready" -- Gary Barlow
Follow --ABCNewsRadio
Copyright 2014 ABC News Radio