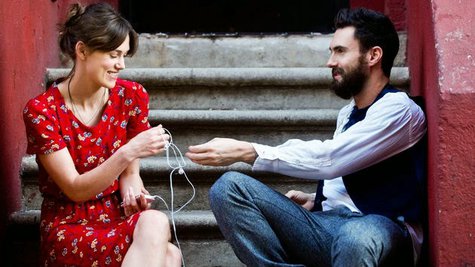 Missed seeing Adam Levine making his acting debut in the movie Begin Again ? You'll get another chance this Friday.
Entertainment Weekly reports that the Weinstein Company is re-releasing Begin Again in theaters nationwide this Friday, August 29. The movie, starring Adam as a musician who dumps his singer/songwriter girlfriend when he finds fame and fortune, originally hit theaters at the end of June, but in limited release. This time, it'll be opening in 350 to 400 cities nationwide.
Why the re-release? EW reports that the Weinstein Company wants to capitalize on the upcoming awards season. While the movie was well-received, its best chance for some awards-show love is its soundtrack of original music, sung by Adam, his co-star Keira Knightley and others. Also adding to the movie's chances: Begin Again 's John Carney previously struck Oscar gold with his 2006 movie Once. That music-themed film won the Best Original Song Oscar for "Falling Slowly."
Begin Again has grossed $27 million worldwide since its release and in general, critics were kind to Adam in his first attempt at acting. Granted, the part of Dave wasn't too far from himself; or, at least, himself during a specific portion of his life. The now-married Maroon 5 frontman is the first to admit that he didn't handle the first blush of fame very well either.
"When it happened to me I was probably tempted by some of the same things he was," Adam says of his character. "Granted, my story is very different than his but it was very easy to tap into what it was like to experience all these things that we, [as a band], never expected to experience."
Speaking about drawing on his own life to play the part, he explains, "When you commit to being a musician, I don't think you're really sure...you're...going to be able to pay the bills. I don't think you care about that as much as you care about playing music. So this guy was just overwhelmed, and so was I, so it was pretty easy, actually."
Adam says that frankly, being "overwhelmed" by fame is what led to some bad behavior on his part.
"There was a very specific point in my life where I thought, 'Oh my God. I've made it,'" he recalls. "Probably in the early 2000s, when someone told me our album went platinum. And I said, 'What? Are you kidding me?' That was when I partied too hard and did a lot of stupid things. And that was part of who Dave was...was that guy!"
Follow --ABCNewsRadio
Copyright 2014 ABC News Radio