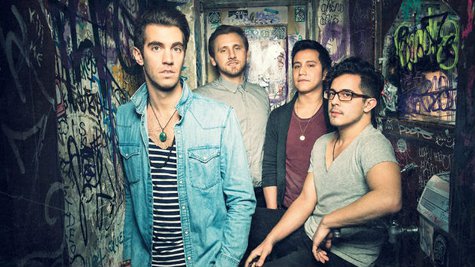 American Authors spent the summer opening for OneRepublic and The Script on tour. The band says while they would've loved to have had OneRepublic's Ryan Tedder write them a hit song, they had to content themselves with him offering them hunks of meat.
Speaking to Fuse , Authors singer Zac Barnett says, "There'd be so many nights on the tour where we'd all be out kickin' it, behind the venue, and he's always barbecuing, grilling up steaks. It's cool, y'know, 'cause he's a good cook. He's really good at grilling up steaks and burgers and brats and whatnot."
Sounds great, right? But as Zac explains, there was a downside. "There would be multiple times where I just had dinner a couple hours before," Zac explains. "And then when Ryan Tedder hits you up and he's like, 'Yo, dude, I just cooked you up this ribeye steak! Here, have it! And you're like, 'Well, I just had dinner...' [And he's like] 'No, dude you should totally try this!' You can't really tell Ryan Tedder, 'No, dude I don't want your ribeye!'"
Zac laughs, "Four ribeye steaks and brats later, you're getting the meat sweats, bro!"
Next up for the "Best Day of My Life" band: dates in Europe, followed by a headlining spot on the fall leg of the annual Honda Civic tour, kicking off in October.
Follow --ABCNewsRadio
Copyright 2014 ABC News Radio