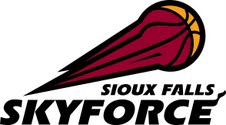 Sioux Falls, SD (KWSN) – The Sioux Falls Skyforce is looking for interns for the 2014-15 season. Interns are expected to work home games and 4-6 hours a week in the office during the season which runs from November-April.
The Skyforce offers internships in the following areas:
· Community relations
· Customer service
· Game operations
· Graphic design
· Marketing
· Media/public relations
· Merchandising
· Sales
· Ticketing
· Video board
All positions are paid positions and students can also receive school credit. Applicants must submit application and resume to the Skyforce office (2131 S. Minnesota Ave.) by 5 p.m. on Friday, October 3. For more information, please contact us at (605) 332-0605 or info@skyforceonline.com.
Courtesy: Sioux Falls Skyforce