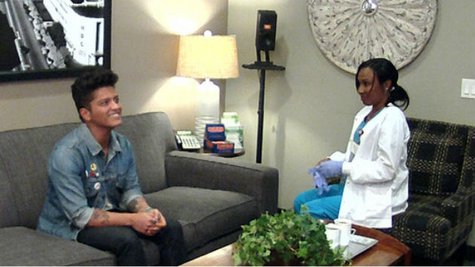 Any other talk show host who landed Bruno Mars as a guest would probably just have him sing. But on Monday's show, Ellen DeGeneres decided to use the Super Bowl halftime star to play a prank on an unsuspecting nurse.
To pull off the hidden camera prank, Ellen had Bruno sit in a dressing room and call for a nurse, with a complaint that his throat hurt. When the nurse arrived, Bruno simply repeated everything that Ellen told him to say via a hidden earpiece, no matter how bizarre or outlandish. The confused nurse had to contend with Bruno claiming that his real name is "Ramon," demanding that she remove her shoes, asking her how many years of training she's had, and requesting that she wear not one but two rubber gloves when she examines him.
Bruno also told the nurse that his throat's been hurting ever since February 2. "I haven't swallowed since the Super Bowl," Bruno told her. When he asked her if she watched him on the Super Bowl, and she said no, he boasted, "I nailed it. I was so good. So, so good." Amazingly, the clueless nurse then asked him what he did at the Super Bowl, because she's "not familiar" with it -- "I thought it was just football," she said. Bruno informed her that he sang, and added, "I'm Bruno Mars, but I don't have a fragrance, that's probably why you don't know me."
After messing with the nurse some more -- and even pretending to cry -- Bruno suddenly pronounced himself cured and told her she's good at her job. He then revealed to her that the whole thing was a prank, and that everyone's been watching her on The Ellen DeGeneres Show .
The joke about Bruno not having a fragrance was a reference to something that he and Ellen chatted about earlier in the show. Discussing his Super Bowl performance, Ellen mentioned that some critics claimed that Bruno wasn't a big enough star to headline halftime because he isn't in the tabloids and he doesn't have his own fragrance.
"I did hear that and I think that was by far the most disgusting thing I heard, not because it was taking a shot at me, but I was just thinking about aspiring young musicians," Bruno said, adding that he wanted to make a little speech to all the young people out there.
"If music is what you wanna do, music is what you love, and your passion, it doesn't take a fragrance, it's not about the tabloids, it's about you putting in the work, practicing every day, practicing your vocals, practicing your instrument, practicing your songwriting," Bruno said. "And hopefully, one day, you write the song that the whole world wants to get down to."
"And I promise you," he continued, "if you go out there and you sing and you put your heart and soul into it, and you follow your dream, one day, you're gonna be sitting next to Ellen DeGeneres, talking about how you broke records and rocked the Super Bowl!"
To underscore his point, Bruno then ran up and down the aisles of the studio as the "Theme from Rocky " played in the background.
Copyright 2014 ABC News Radio
video platform video management video solutions video player video platform video management video solutions video player