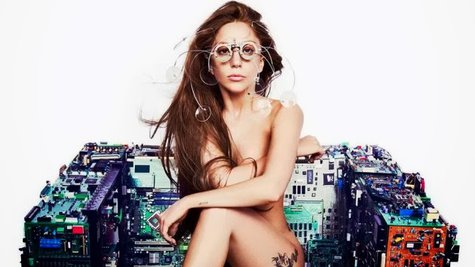 Film shoots are rare and commercial shoots are non-existent at California's iconic Hearst Castle, a National and Historical Landmark mansion built in the first half of the 20th century. But Lady Gaga managed to get permission to film a video at the site -- in exchange for a hefty donation.
According to San Luis Obispo, California's Tribune News, there were about 125 cast and crew members shooting at the location this week, including dancers and security staff. The paper reports that crew members were spray-painting large inflatable plastic swans in metallic colors, and carrying a giant plaster seashell, antique furniture and bags full of fake flowers. Filming was taking place in an indoor pool called the Roman Pool, which is decorated with statues of gods and goddesses. Further shooting was conducted at an outdoor location, the Neptune Pool.
That information seems to indicate that Gaga may be filming something for her song "Venus," but it's not clear exactly what the video will be used for. Gaga is directing the video with two other filmmakers.
Remar Sutton , a board member of the Hearst Castle Preservation Foundation, told the Tribune News that "it's the most extensive shoot [Lady Gaga] has done," adding that production is scheduled to wrap in October. Sutton also said that additional footage was shot at the Louvre Museum in Paris, and in Los Angeles.
Sutton also said that Gaga, her parents and her team are donating $250,000 to the foundation in order to shoot there, and will also pay a usage fee of $22,100. In addition, they'll also underwrite a $25,000 study on California's water supply and reimburse the state for all production costs. Gaga will also shoot a water conservation PSA and a feature on the castle.
Hearst Castle was built for publisher William Randolph Hearst , whose life inspired the classic film Citizen Kane.
Copyright 2014 ABC News Radio