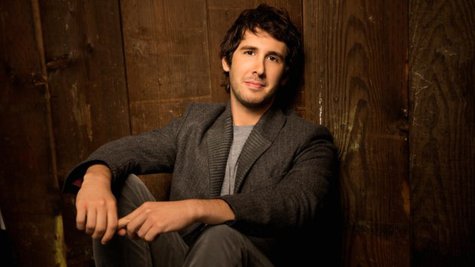 Josh Groban gave his fans a Valentine's gift this week: a digital single of a live duet version of his song "Remember When It Rained," featuring his most recent opening act, Judith Hill . But Josh's music for more than a decade has been the gift that keeps on giving -- when it comes to setting a romantic mood for his fans. In fact, he says fans often tell him his music is the reason they have kids today.
"At this point, having been in the business for 11 or 12 years, you hear about the conceptions, you hear about the children, the little Joshie juniors around the country," Josh tells ABC News Radio, laughing. "So it's very cool. Looking back at the dorky kid [I was] in high school, who just couldn't even get a girl to look at him twice, y'know, to be, like, the guy who's actually helping out...it's good!"
Noting that his concerts are usually filled with women who've dragged their unwilling men along, Josh says, "I always tell the guys at the shows, 'This is two hours of a very long night.' So if I can help in any way possible then I'm thrilled!"
Asked which of his songs he'd recommend to get a couple in the mood -- what's often called "baby-making music" -- Josh acknowledges, "I mean, generally I think that some of my songs might be a little intense. The last thing you want to hear is like a screaming high note, you know? But...there are obviously some songs that are very romantic. I sing about love a lot."
"And, yeah, heck yeah," he laughs. "If they think I'm a baby-making-helper-singer guy, then I'll take it!"
In a new comical Valentine's Day video posted on his website, Josh announces he's selling "Josh Groban Cookies" for the holiday, with his song titles written on them -- only he's chosen all the songs he's recorded about being broken-hearted and sad, like "Broken Vow" and "Weeping." As he grows increasingly more upset reading the depressing song titles, he finishes his sales pitch by stuffing cookies angrily into his mouth, and then running off camera.
Copyrigh 2014 ABC News Radio