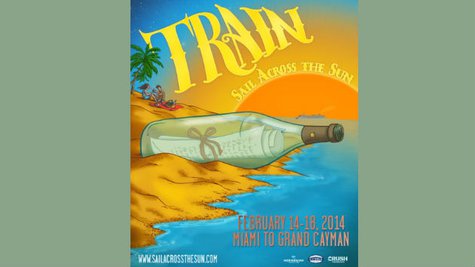 A couple of years ago, Train took part in a VH1-sponsored cruise that also featured The Script , Lifehouse , Colbie Caillat and other acts. They enjoyed it so much that they immediately started plotting their own fan cruise, and now it's become a reality: Train's Sail Across the Sun cruise departs from Miami today, Friday, and travels to Grand Cayman on the Norwegian Pearl.
The Sail Across the Sun cruise is a bit different from other music acts' fans cruises, though, because it also incorporates Train's love of food and, especially, wine. After all, the band happens to have their own line of signature wines and chocolate, whose proceeds go to charity. So along with music acts like Michael Franti , Matt Nathanson , John Oates of Hall & Oates fame and Voice finalist Vicci Martinez , celebrity chefs like Jonathan Waxman and Aaron Sanchez -- you've seen them on Top Chef Masters and Chopped -- are also coming along to help entertain the guests with cooking demonstrations. Wine tastings and wine activities are also on the schedule.
Unlike some musicians, who openly admit that they do cruises because they pay so well, Train frontman Pat Monahan tells ABC News Radio that Train dreamed up this cruise concept, not to rake in the bucks, but to create something really special for their loyal fans.
"When we charge people whatever it costs to get on board it's really not a profitable thing for us," Pat tells ABC News Radio. "It's more an experience. And I just think that after all these years, maybe we're focused on more than, 'Hey, what kind of dollars can we bring in?' That's just not fun, but what's fun is, 'How can we bring all these people together that wouldn't be together otherwise?'"
And don't expect the members of the band to hide out in their cabins, either: they plan on getting up close and personal with all the guests. Among the activities: karaoke with Pat and a casino night with Train guitarist Jimmy Stafford , a Q&A with the band, and intimate concerts. Pat says they're taking inspiration from the guy who they feel does the best job with his fan cruise: Kid Rock.
"I think the guy that everybody thinks of as the best cruiser is Kid Rock," Pat explains, "He's got it together. He knows how to do it. Everybody gets a picture when they come on board, so he'll stand there for 3000 people. And then he'll go right to the pool and drink with them all, the entire time! And I just think that sounds like a lot of fun, so we're going to do that."
Copyright 2014 ABC News Radio